There is no surer sign that Monday is approaching than a case of the Sunday Scaries. What are the Sunday Scaries you ask? You know, the slow creep of stress that sets in as you start to remember your looming work week to-do list. Almost 8 in 10 adults battle these end-of-the-weekend blues, according to an international poll from Monster.com. Yup, that's most of us. So what do we do now?
We talked to Maggie Mistal, a certified career coach, about how to beat the Sunday Scaries and why they're so bad in the first place. It turns out that Sunday stress doesn't have to be permanent. Promise.
How to Cure the Sunday Scaries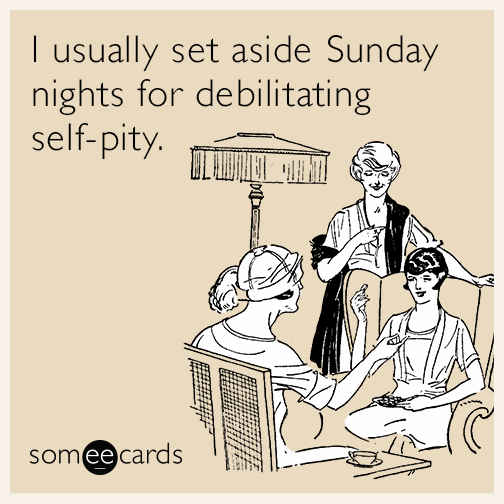 While no job is immune to the Sunday Scaries, or Sunday night blues, they tend to be particularly bad if Monday means heading to a job you don't love, says Mistal. "It can feel like we have to put on armor, do things or face situations and people that we'd really rather not deal with," she says. "All of this can cause significant anxiety on Sunday evening as we contemplate heading back to work Monday morning."
In a perfect world, you'd be working a job that has you pumped for Mondays (and feeling like a boss all week long). But that's not always the reality, says Mistal. "Too often people expect a new job to solve all their career woes when the reality is you've got to find a fit between who you are and the work you do in order to be immune to the Sunday blues."
Whether you're already running the office or your dream job is still a work in progress, check out these expert-backed tips for banishing the Sunday Scaries for good.
1. Beat the Sunday blues with breath
Did you send the reminder for that morning meeting? Have you prepared for your weekly review? How will you survive another week of late nights to meet a client deadline? When the Sunday evening anxiety begins to creep in, take a pause and take a deep breath. "It helps to reset your brain out of fight or flight mode and allows for a healthier perspective," explains Mistal.
Need more convincing? It's also a science-backed way to reduce stress and slow down anxiety, according to a 2011 review of evidence-based stress-busting techniques. If one big breath just won't cut it, try a few minutes of deep breathing exercises to slow the stress down.
Once you've halted the avalanche of work-induced stress, you can start to focus on staving off the Sunday night scaries.
2. Pick more positive people
"Critical to curing the scaries is understanding and obtaining the proper mindset," says Mistal. To do that, start by rethinking your office social circle. Talking about how much you're dreading going to work with a coworker over Slack isn't helping. But spending time with colleagues who are excited about their projects and soaking up some of their enthusiasm might. There's back-up here too: Science suggests that good moods are contagious and this holds true in the workplace.
Tapping into that upbeat support network will "enable you to remain positive and achieve your desired career needs and goals no matter what is going on around you," says Mistal.
3. Make a list of all that's not working in your current job—then flip it
To flip the script on the Sunday blues, list the things you're dreading on Monday morning and then paint them in a more positive light. For example, if the thought of a tedious a.m. status meeting has you wanting to crawl under the covers, come up with an upside. Maybe you'll get a running start on your day, which frees up time in the evening to work on your side hustle. "This way, rather than focusing on all that's wrong on Sunday night, you can focus on what you're looking to create in your career," Mistal says.
4. Remind yourself of all the things you do well at work
"Take note of what people thank you for," says Mistal. Whether you're a killer presenter, most thoughtful office birthday planner, or most creative graphic designer, don't take your genius for granted, she says. "Take those things seriously and look for ways to redefine your role or look for a new role where your talents are key skills." Not only will heading back to the office seem easier after meditating on your skills, "you'll actually look forward to using your genius every day," explains Mistal.
Not in a position to change positions? Create a simple system for holding onto the compliments and thanks people give you. A folder in your email or a Trello board works. Save emails, quotes, and shout-outs that point out your positives. Then, when you're really feeling that Sunday stress, read them. Remembering how awesome you are can ease the back-to-work blues, even if you're not making immediate moves.
5. Remember, Monday morning isn't the end of the world
Remind yourself you aren't stuck with the Sunday Scaries. As you work towards the kind of job you'll look forward to each week, focus on the things you do like about your current job. "There are ways to make work a better fit no matter where you are," says Mistal. "You aren't stuck."
Another upside? You've survived every Monday you've experienced thus far. So the odds are pretty good that you'll get through this one too. If you're struggling with the thought of another week, you might want to plan something social, relaxing, or rewarding on Monday night to keep you moving. No one said treating yourself was a weekend phenomenon.
Curing the Sunday Scaries for good might be as simple as using a little positive psychology to flip the script on your work week. Or it might be a red flag that it's time to start the hunt for something new. Whatever the case, try some of these steps as part of your plan for beating back the blues. Bonus step? Consider this your excuse to create a Sunday evening routine you'll look forward to each week. Watching cat videos as you prep your Monday lunch? Yes, please.
Struggling to figure out the right career? Check out this TED Talk on finding the work that works for you.
Your turn: How do you push back against the Sunday Scaries? Tell us your best tip for busting the end-of-the-weekend stress in the comments.
Want more ways to banish anxiety and up your happiness throughout the entire week? Check out this simple trick for expanding your joy.
Author:
Macaela Mackenzie
Macaela Mackenzie is a freelance writer and content strategist. When she doesn't have her nose in a research journal or the New York Times, she's likely to be found looking for punny greeting cards or an excuse to explore a new travel spot.