You've probably heard plenty about morning routines — most likely from us. From the five things you must do to have a productive day to the morning routines of billionaires and geniuses, there's no limit to the praises sung to those a.m. rituals. But what about evening routines?
When it comes down to it, what you do at the end of the day is no less important for productivity and happiness than what you do at the beginning. Whether you prefer to spend your night binge-watching TV, working out, cooking, or seeing friends, evening routines can help boost your mood for the days ahead.
Here's why and how to set one up.
4 Benefits of Evening Routines
Evening routines aren't just about filling your time after work. They have tangible benefits on your well-being, including:
1. Better sleep
Simply put, a routine helps your body wind down and realize it's time for sleep.
Taking time to relax can separate your mind from the stress of the day so you can fall asleep more easily and sleep better. When you do the same evening routine every night, your body and mind will connect those actions with sleep. And that makes it easier for you to doze off.
Why does that matter? Because poor quality sleep has a wide range of negative effects, from weight gain to cognitive decline. And the inverse is true as well. Better sleep can have positive effects on your health and well-being.
For example, a study of 18-30 years old found that sleep deprivation makes you react more strongly to negative stimuli. And when this happens in everyday life, it can make you more likely to feel depressed or anxious. In short, you want to take your sleep seriously. And evening routines can help you do that.
2. Time for yourself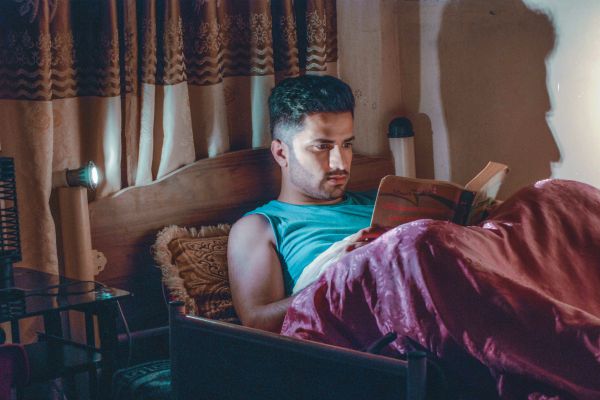 Having an evening routine is a great way to help you disconnect from work. And that's becoming increasingly difficult. With smartphones and laptops, it can seem like you're always on the clock. But research has found that taking a step back at the end of the day is crucial to your well-being.
Evening routines can serve two functions here.
First, you can use your routine to mark a clear separation between the workday and your own time. This could entail a final inbox sweep and computer shutdown, listening to your favorite podcast on the way home, or anything else that helps you close out the day.
Second, your evening routine can provide you with time that's completely your own. During this time, focus completely on non-work activities, whether it's an episode of your favorite TV show, cooking dinner, or talking to a friend or significant other.
Both of these uses of an evening routine let you disconnect, which ultimately helps make you happier.
3. Positive anticipation
Do you find yourself sitting at work and daydreaming about what you'll eat for dinner that night or what you'll do when you get home? If so, you understand how having something to look forward to can boost your happiness.
Happiness experts agree. Having something to look forward to increases your happiness by making you feel good not just when the event happens, but also before you even get there.
So by creating an evening routine you enjoy, you'll give yourself something to look forward to each night, which brings that anticipatory happiness into each day.
4. Increased productivity
We probably don't need to tell you that being more productive can make you happier. But what we can tell you is that evening routines can help boost your productivity in several ways, depending on how you choose to spend the time.
First, they can help you carve out specific time to cross things off your to-do list. For example, maybe your evening routine includes going to the gym a few days a week or making sure the kitchen is clean after dinner. You don't even need to have a specific task as part of the routine. Maybe you just take an hour every night to check that list and cross off a few items.
The second way a routine can help your productivity is to get you ready for the next day. This can include anything from meal prep to checking over your calendar to make sure you know what meetings you have tomorrow.
The best part is that not only does productivity make you happier, but being happy can make you more productive. In fact, research has found specifically that happiness can lead to a 12 percent increase in productivity. This means that your evening routine can lead to a great cycle of productivity and happiness. Win-win.
What Should Your Evening Routines Include?
Now that you know why you should have an evening routine, you might be wondering how to do it. Here are some ideas for evening routines that boost happiness.
Journaling
You can journal about anything, but we recommend using your evening routine as a chance to keep a gratitude journal.
Practicing gratitude has been linked to a reduction in anxiety and depression, as well as higher levels of happiness. One way to cultivate this practice is to write down three things that you're grateful for each day. This refocuses you on positive thoughts to close out your day.
Putting down your phone
Yeah, we know. It's not the easiest or most unique recommendation, but there's a reason we included it—it works.
According to the National Sleep Foundation, 95 percent of people use their electronic devices within the hour before going to bed. But getting off your phone at least an hour before bedtime has been shown to lead to better quality sleep.
You'll feel more relaxed and less stressed if you kick the screens at least an hour before bed. So make it part of your evening routine asap.
Meditation
Meditation at any time of day can reduce stress, anxiety, and depression.
Making meditation part of your evening routine can help you let go of the stress of your day, get a better night's sleep, and be happier.
To get started, try a meditation app, podcast, or one of our guided meditation videos:
Worry brain-dump
While keeping a gratitude journal is a great way to increase positive thinking, writing down your worries can also be a mood-boosting part of an evening routine.
It helps you get those stressful thoughts out of your head and onto a piece of paper. Then, your fresh brain will feel less anxious and slide into better sleep. It can also make your worries more concrete, which can help you tackle them.
This doesn't work for everyone though, so try it out to see if writing down your worries boosts your mood.
Plan for tomorrow
We've already talked about how evening routines can increase your productivity and mood by helping you get ready for the day ahead.
Take it up a notch by using your evening routine as a time to review your calendar, make lunch for tomorrow, or cross something off your to-do list. This can ease your next-day stress by taking on tomorrow before it starts.
To sum it all up…
These are just a few of the science-backed ways you can create an evening routine that makes you happier. But the best evening routines are the ones that work for you. Try experimenting with our tips and others to find the best nighttime ritual for more relaxed p.m.s and happier days.
Your turn: What evening routines have you tried? Tell us about your post-work rituals in the comments below.
For more ways to maximize your nights, check out our bedtime routine for the best sleep ever.
Author:
Erica Hersh
Erica Hersh is a health writer, editor, and communications strategist based in Boston, MA. In 2014, she fulfilled her lifelong dream of being on Jeopardy. She did not, however, fulfill her dream of winning on Jeopardy.